Alsace: Vines u0026amp; Villages of the Vosges
7 – 16 July 2016
Cycling, Culture, and Cuisine for Everyone!
E-Bike (electronic assist bikes) available!
VeloSki is pleased to be returning to the Alsace for the fourth season, offering what we believe to be the best cycle tour option for riders of varying abilities! Hundreds of hours have been spent scouting, mapping, and exploring to create the memorable travel experience that you seek.
The Alsace Wine Route offers 170km/100 miles of colorful scenery, quiet roads and cycle paths. The area offers nearly 2000km/1200mi of designated bike routes and paths. Our tour offers daily options depending on your interests and energy for the day. A region rich in history, you will soon appreciate what it means to be Alsatian. The best of French and German cultures and cuisine!
Tour Highlights:
9 days riding (4 optional rest days)

35km-80km routes, average distance (45km/27mi)

Elevation gain 200m-1400m (500m average)

Vosges Mountains, Route des Cretes (Tour de France routes)

Castles, Cathedrals, and Canals!

Quaint "Gingerbread" style villages

Alsatian Wine Varietals

Many Side Trip Options: City of Colmar , WWII Museum, National Car Museum, Haut Koenigsbourg Castle,

Natzweiler-Struthof Concentration Camp Memorial

Celebrate Bastille Day with local festivities, July 14th!
Stretching from the canal linking the Rhine and Rhone to the Mosel on the flanks of the Vosges mountains lays the incomparable Alsace.   The broad valley cradled between the Schwarzwald (Black Forrest) to the east and the Vosges to the west was formed millennia ago from a clash of tectonic plates to expose minerals and geology ideally suited for the delicious grape varietals we now enjoy. Vineyard and historic trade roads comprise the routes of our cycle tour thru the Alsace; with some 1000 producers along the way, the Route offers a magnificent perspective of the region and its winemakers.   The houses, inns, eateries and wineries along our route will entice your senses to linger just a bit longer with each twist in the road.
Welcome to the Alsace!
Days 1 and 2 — Molsheim

We begin our cycle tour in a modern hotel situated in a beautiful park like setting across from the cathedral and walled city of Molsheim.  The pool and spa areas are perfect for relaxing and spending time with your new travel companions. An afternoon ride and orientation for e-bike riders will be locally guided. Pascal is a competitive cyclist and nearby bike shop owner.  He is looking forward to introducing you to the Alsace!
Molsheim is the adopted home of one of the most prolific inventors in the realm of transportation. Mr. Bugatti moved from Italy to Molsheim where he created the fastest and most luxurious cars of the era. It is here that we begin our immersion in the wines of Alsace and the incredibly diverse people of the region.   The vineyards beckon us to explore their narrow paths lined with vines as we venture off into the countryside surrounding Molsheim. Our 40km loop ride option is a sampling of the coming days; rolling hills, stork nests, quaint villages, fields of sunflowers, and of course vineyards!
 
Days 3 and 4 — Obernai
Leaving Molsheim along a tree shaded stream, we are soon easily riding a farm road leading into the densely forested flanks of the Vosges Mountains.  Route options today are varied. Views from Mont Sainte-Odile are not to be missed! Arrival in the village of Obernai takes us with our eyes back to Medieval times as we ride over centuries old cobbled streets amid half-timbered, colorful structures to our hotel near the Centre Ville. Saturday evening offers a special treat to experience a local festival and open air concert on the Market Place. Trade your cycle shoes for dancing shoes this evening!

Days 5, 6, and 7  — Kientzheim
The 50km Alsace Wine Route from Obernai to Kientzheim is perhaps the most picturesque section along the entire Route.  The "photo-ops" are plentiful!  There are wineries to visit, with deliciously delicate Sylvaner, Pinot Gris, Riesling, Gewurztraminer, Pinot Blanc and Pinot Noir. A wine museum, near our hotel, explains the history and practices of wine production in the Alsace.
Our family run hotel in Kientzheim has become a favorite of our guests. The dining room alone is a reason to return! With so many cycling opportunities and tourist sites nearby, we will call this small village "home" for three nights. Nearby Turckheim has a World War I and II interpretive museum that provides added insight into the history and perseverance of the Alsatian people.
Kaysersberg is a short walk or ride thru the vineyards from our hotel. The central cathedral and local merchants market of Kaysersberg help us feel a bit of the old ways.  The  Dr. Albert Schweitzer museum in Kaysersberg houses memorabilia and stories of his humanitarian endeavors in Africa.  Cycling options are plentiful either thru vineyards or high into the Vosges mountains.
"The Alsace Tour, when I think about it, makes me glow inside. Bumping down those cobblestone streets into adorable villages, so I could arrive at yet another beautiful hotel and eat yet another fabulous meal — well, words pale…"    Kathy, Portland, OR  2015
Days 8 and 9 — Thann
The Route des Cretes or "Road of the Ridges" is central to our route today.  Built in the summer of 1915 it ran from Col du Bonhomme in the north to the Hartmannswillerkopf in the south.  It was built as a supply route to the French troops on the passes and mountains they held.  Nearly 100 years later it supplies the region with tourists of Alsace and offers spectacular vistas over the vineyards and villages.  Our climbers route takes on quiet roads to a crossroads where intense battles were waged; memorial cemetaries for both German and French armies remind us of the human cost incurred during the First Great War.  A thrilling descent on near flawless roads takes us to the heart of Munster for a taste of some very special macarons du Munster.  Following quiet roads in the forest we arrive on the Route des Cretes for an undulating "ridge surf" to le Grand Ballon before our final descent to the Southern Portal of the Alsace Wine Route.
On the night of July 14th, we share in the French celebration of Bastille Day! Our beautiful French chateau sits a few blocks from the center of Thann, less than a ten minute walk to the center of the festivities.
The riding and sightseeing options on the 15th are almost daunting.  Mulhouse, the capital of technical museums, is just a short train-tram ri
de away.  There you will find several noteworthy museums: 1. National Car Museum (Schlumpf collection) houses over 400 exceptional cars tracing the creation and innovations of the automobile.  2. French Railway Museum, houses the most important collection of railway material in continental Europe. 3. Electropolis EDF Museum; and 4. Mulhouse Historical Museum.
If you prefer to continue riding today, you won't be disappointed! View stork nests along the cyclepath to Cernay, a breathtaking circuit from Thann to the summit of the Ballon d'Alsace or take a more leisurely bike ride out to a spectacular reservoir for a dip in the lake. End the day by the hotel pool and terrace where we will rendezvous for refreshments and recounting stories of our day before taking our farewell dinner in the elegant hotel dining room.
Pre or Post Alsace tour option —
The Alsace Vines and Villages tour was designed for those considering starting or ending their trip with a few days in Paris. Fly into Charles De Gaulle Airport, then travel by high speed TGV train to Strasbourg, France, a short 30 minute van ride to our starting hotel.
Other guests have chosen to fly in and out of the EuroAirport Basel Mulhouse. We can assist with plans for either location.
Accommodations:
3 and 4 star family run hotels, both modern and charming Alsatian chateaus

two and three night stays

single or double occupancy available
Meals:
Group breakfasts and dinners featuring typical local flavors and dishes prepared individually for our enjoyment.  Breakfasts provided by our lodging partners.  Dinners generally include a variety of choices for each course (starter, first course, main course, dessert); paired with wines, beer and after dinner coffee.   Most dinners served from the kitchens of our hotels, others taken in nearby restaurants.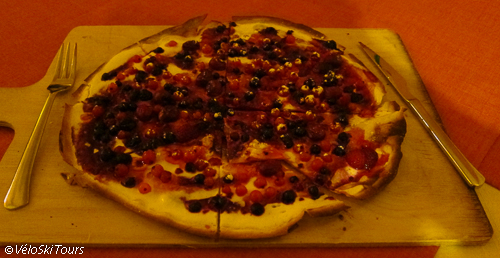 What's Included:
Group is limited to 10 guests

9 nights lodging, 7 dinners, 9 breakfasts

Pre/Post tour travel planning assistance

Airport or Train Station transports

Bike case storage

Mechanical assistance with bikes / fully equipped van

Daily route notes and maps (paper and electronic)

Options for climbing and non-climbing routes

On-the-road cycle guides

Van transfer of luggage and road support; snacks/picnics

VeloSki Rider's Guide

Twenty years experience guiding and riding in Europe! (Larry Smith)
Excluded:
Airfare

Lunches

Museum/ Gallery entrance fees

E-Bike Rental (electronic assist bikes) $250

Laundry services

Hotel incidentals
Pricing:

$3200 double occupancy per person
$3750 single occupancy per person
"At the end of our trip, I thought I would be able to cross off this adventure from my bucket list, instead, I found out there is no scratching off an adventure that I would love to do all over again!"     Dee, Omaha, NE    2015