DISCOVERING ALSACE: VINES & VILLAGES 2021
ALSACE * FRANCE
VÉLOSKI VINES & VILLAGES DISCOVERING ALSACE BICYCLE TOUR // TENTATIVE DATES JUNE 12-26, 2021
Sadly, we are postponing until June 2022 due to uncertainty regarding Americans traveling when France re-opens borders to "foreign travelers" from the EU June 9th. 
Proudly French and historically significant, the region of Alsace makes for a superb French bicycling tour. Tucked in under and along the Germany border, with Switzerland at its feet, Alsace begs to be discovered by enthusiastic cyclists looking to explore its rich cultural heritage—and wonderful present-day attractions.
As your plane or train arrives into the Rhine valley, your window will open into a glimpse of a vast tapestry of vineyards, wheat fields, canals, rivers, forests, hills and villages that is Alsace. A staggering number of options energizes you to immerse yourself fully into the culture and history of a very special land. We will explore places and enjoy sites and scenes sure to alter your perspectives on permanence and change. Alsace represents a unique culture that has enjoyed centuries of prosperity, while also enduring wars and hardships…and producing Nobel Prize winners, life-changing inventions, world-class wines, gastronomical delights, and artistic and architectural treasures.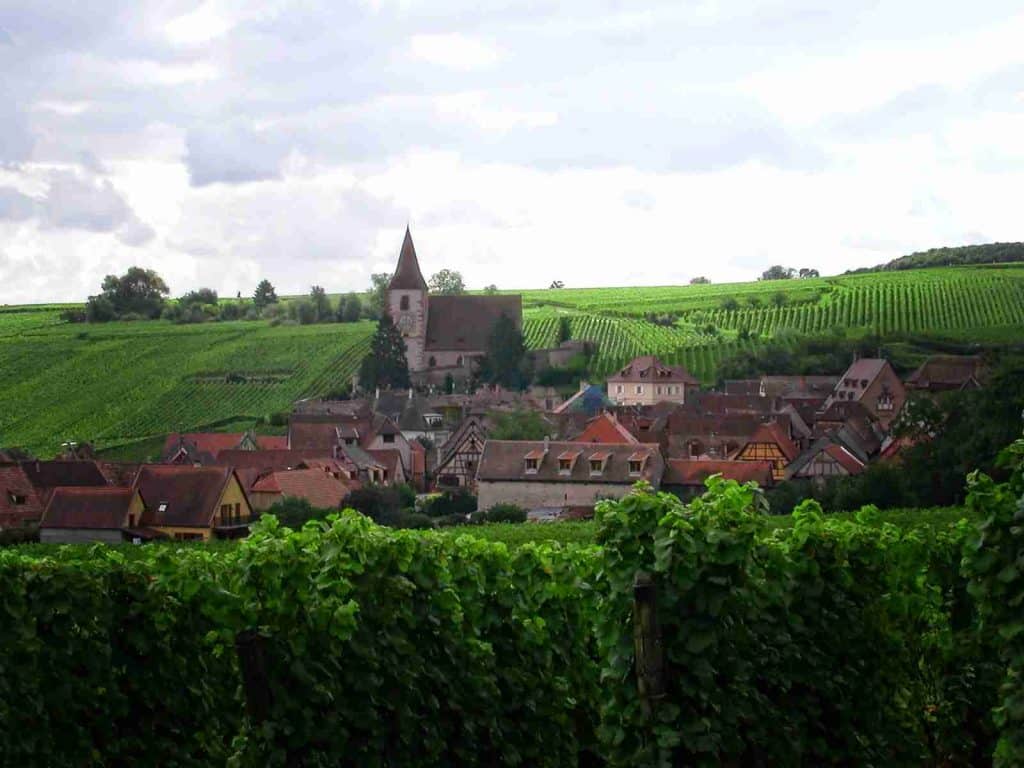 Possibly more than any region of France, Alsace truly has something for everyone…especially bicyclists! And there is probably no better region for routes that cater to riders of varying abilities! This season will be our fifth time we've toured the area—to go with the hundreds of other hours we've spent scouting, mapping and exploring the region's 2000 km (1200 miles!) of designated bike routes and paths.
We will cycle, eat, and sleep in luxuriant surroundings; taste remarkable Alsatian wines; travel back in time as we ride thru gingerbread villages where storks nest high atop church steeples. A combination of historic trade roads and vineyard paths comprise the primary routes of your cycle tour thru the Alsace. The houses, inns, eateries and wineries along our route will entice your senses to linger just a bit longer with each twist in the road. We will cycle the Corniche des Vosges, the Route des Cretes, and pedal along tiny and perfect vineyard paths as we embrace the colorful culture and cuisine of the Haut and Bas Rhin.
"The Alsace Tour, when I think about it, makes me glow inside. Bumping down those cobblestone streets into adorable villages, so I could arrive at yet another beautiful hotel and eat yet another fabulous meal — well, words pale…" Kathy, Portland, OR
Comfortable family operated B&Bs, inns and hotels well situated to enjoy local culture and flavors
Group breakfasts and dinners featuring typical local flavors and dishes prepared individually for our enjoyment. Breakfasts provided by our lodging partners. Dinners generally include a variety of choices for each course (starter, first course, main course, dessert); paired with wines, beer and after dinner coffee. Most dinners served from the kitchens of our hotels, others taken in nearby restaurants.
15 nights, 15 breakfasts, 13 dinners, 3 winery tastings, daily road snacks/picnics, maps and route descriptions, luggage transfers, on-the-road ride guides, van support (sag wagon).
Lunches, 2 dinners, tips & gratuities, airfare, museum entries, trams or lifts, trip insurance.
The incomparable Alsace stretches from the canal linking the Rhine (Rhin) and Rhone rivers to the Mosel River on the flanks of the Vosges mountains. The broad valley cradled between the Schwarzwald (Black Forest) to the east and the Vosges to the west was formed millennia ago from a clash of tectonic plates, exposing a mineral and geological footprint ideally suited for growing the delicious grape varietals we now enjoy as gewürztraminer, riesling, cremont, pinot gris, pinot noir, and many others waiting for you to discover.
Political borders changed often during turbulent years of empire building, wars and treaties. The people of Alsace remain distinctly proud of the traditions that we will enjoy today, cycling thru perfectly cultivated vineyards and quaint villages with exposed beam home construction that typifies local vernacular of the region.
"At the end of our trip, I thought I would be able to cross off this adventure from my bucket list, instead, I found out there is no scratching off an adventure that I would love to do all over again!" Dee, Omaha, NE
In spite of the proud French posturing, the Alsatians have absorbed more than a modicum of the ways and means of their German neighbors. And the cuisine reflects this unique blend of French and Germanic flavor and flair: you'll find delightful the unexpected special dimension munster cheese adds to your tarte flambee. And don't be surprised to find a French-Compte with your flamenkuchen!
For centuries the Rhin has been used as an main artery of transport, moving goods back and forth between communities; today it is still actively used for freight and material hauling, utilizing an extensive system of canals and locks. Early traders brought needed grains, fabrics, and merchandise from small farms and workshops to the larger cities of Strasbourg, Mulhouse, Colmar and Basel. Each of these are essential to our appreciation and understanding of Alsace, and you'll have occasion to visit any or all of these as optional outings during our quieter stay-over (multi-day) locations.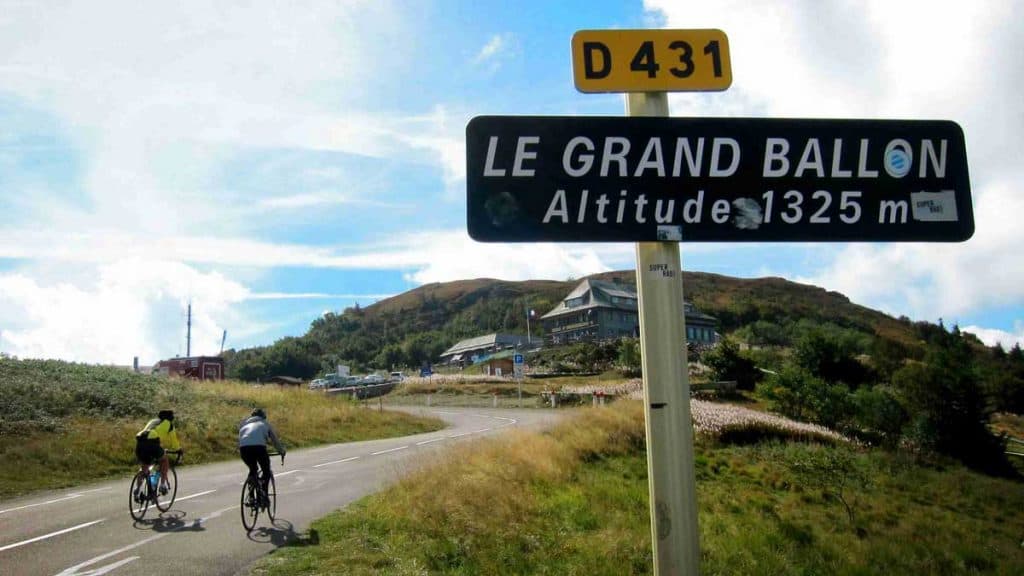 The wine route may be the most prominent tourist route of the Alsace region, but the Route des Cretes is perhaps the most scenic "ridge surfing" route in France. The entire route stretches 92km from Sainte Marie aux Mines near Haut Koenigsbourg to Cernay near our destination of Thann. We will have enjoyed a few "teasers" with rides into the Vosges, but we will commit to riding a portion of the Route des Cretes with phenomenal views to the east and to the west from the ridge top. La Grand Ballon will be a great location for lunch on the terrasse before we descend to the valley leading to Thann.
The sheer richness of potential prompted us to create this unique point-to-point experiential tour of Alsace. The route we will follow is best viewed as an outline to the story of the Alsatian way of life. As you will explore portions of the 170km Route du Vins with over 100(!) small Alsatian villages. Beginning in the north along the gently rolling hills of the Bas Rhin from Marlenheim to Molsheim will ease us from our normal daily routines into a more relaxed and less hurried pace as we are welcomed to Alsace. You will soon feel right at home!
ARRIVAL PLANNING
Arrive into Basel or Zurich, Switzerland. Zurich arrivals transfer to Basel (on your own). Click HERE for a super informative site for all things Swiss transportation. The VeloSki van will be in the Alsace region by June 11. We have hotel space reserved for earlier arrival dates, so let us know your flight itinerary to confirm extra room nights.
DEPARTURE PLANNING
Depart from Basel or Zurich airport June 26th. Later departures may be arranged; the VeloSki van will be in the area through the 27th.
PRICES
— $5000 double occupancy per person — $5750 single occupancy per person
RESERVE YOUR SPACE TODAY
Download the VeloSki Reservation form HERE. Spaces are reserved on a first reserved, first confirmed basis. Please call or email if you have questions!