TUSCANY UNPLUGGED: VINES & VILLAGES 2022
ITALY - TUSCANY
VÉLOSKI VINES & VILLAGES "UNPLUGGED" BICYCLE TOUR OF TUSCANY //
September 25 – October 10, 2022

Cypress-lined serpentine descents. Warm days and cool evenings. Wonderful cuisine, wine and roads. Lingering over vineyard lunches and relaxing with friends with wine after a full day taking in the sights, sounds and smells. Memories waiting to be made….Tuscany elicits these unforgettable visions, and yet it's more than a movie set…it's all real. And ready for you to ride. Rolling terrain bursting with vineyards, wheat fields, olive orchards—all dotted with Etruscan villas and picturesque villages perched like sentinels atop the highest hills (just asking to be explored). It's so remarkable when you realize you are here, you'll pinch yourself! This signature VeloSki tour is entirely designed with a new and different approach to a decidely—and deservedly—popular place.
We envisioned a new cycle tour of Tuscany after many years away. The idea was to "unplug" from the normal routes and get off the tourist hamster wheel. We created a new classic, adding seldom-seen to the superlatives describing the charming Tuscan villas & villages you'll visit throughout the stunning landscape. Only now seen from the roads less traveled. Also added is a diverse mixture of lodging and personalized dining experiences to the tour. You'll be amazed at the wine tastings at small agritourismo operations (a European version of a local produce, slow food experience that is NOT to be missed). And visiting one of the oldest wineries in Italy. Or the intimate wine-pairing dinner in an former brick factory-turned-countryside hotel that truly exemplifies an unparalleled and "unplugged" experience for cyclists (and foodies) who appreciate fine food, fine wines and fabulous cycling!
Reserve your spot today for you and your friends! Space is limited! Make 2021 the year to experience the VeloSki difference at it's best: Tuscany Unplugged. There's no better way to appreciate the quintessentially rich variety of flavors and personalities that are Toscana! We're looking forward to having you join us!
Vertical Meters Climbing - Std Route
Vertical Meters Climbing - Long Route
TUSCANY UNPLUGGED ROUTE MAP
September 25 – October 10, 2022

Welcome to Firenze, the birthplace of the Renaissance and one of our favorite cities! Our lodging in Florence offers a unique experience to reside in an Italian villa built in the Liberty style in 1917. Your spacious room includes a full kitchenette, a quiet garden on the back of the villa, and a central location from which to explore Florence. A variety of restaurants are within an easy walk or bike ride. Our hostess, Angela, is a wealth of knowledge and freely shares her knowledge of local sites and roads.
DAY 2 – LATERINA
70KM / 1000M CLIMBING
The ride from Florence to Laterina is the perfect introduction to Tuscany. Enjoy the ups and downs, views of vineyards, and the colorful tapestry of Tuscany.  Heading into the Florentine Hills, near the town of San Donato, a compelling wine making and olive oil factory dominates the hilltop. Fattoria Torre A Cona is an 18th century villa whose cellars protected famous works of Michelangelo and Donatello during WWII, including statues of the Medici Chapels and the Duomo of Florence.  Our lodging is located on the grounds of a former factory producing bricks and tile, and features a swimming pool, and an evening of extensive wine tasting, local cheese, and foods. The wine shop, on the premises, offers direct shipping to the U.S. for your wine purchases.
DAYS 3 & 4 – CORTONA
81KM / 980M CLIMBING
Our ride from Laterina to Cortona is rewarded with lodging within the walled city. Cortona is perhaps best known these days as the setting for the book and movie "Under the Tuscan Sun". Gorgeous, hillside Cortona has a long history dating back even before its time as an important Etruscan center. Top attractions include the Duomo (Cathedral), the small Museo Diocesano across the piazza with its superb art collection, and the fascinating Museo dell'Accademia Etrusca with its assembly of Etruscan and Roman era items. Cortona is also bursting with splendid churches spanning many periods.   Our stay over day will allow for resting and purusing the museums, art galleries, and maybe going for a ride above the town.
DAY 5 & 6 – SAN QUIRICO D'ORCIA
47KM / 850M CLIMBING -OR- 77KM / 1360M CLIMBING
San Quirico is a quiet contrast to Cortona with approximately 2,500 inhabitants, San Quirico was once a main stop on the road connecting Northern Italy to Rome.  The walled city has four entrances, cyclists will be entering from the east. Horti Leonini, late Renaissance gardens, are a 5 minute walk from the hotel. The entrance is off of the Piazza della Liberta. Created in 1575 during the rebuilding of walls damaged in the war between Siena and Florence, the gardens today also include a modern rose garden and statues created in the 1990's. Enjoy a gelato from one of several options and stroll through the gardens.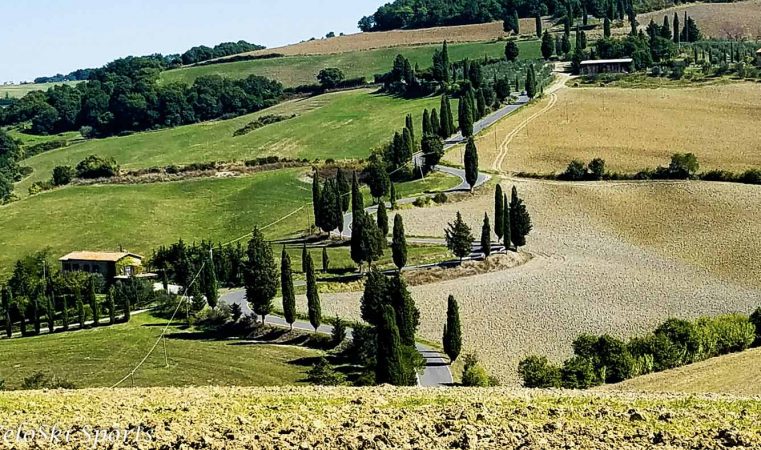 DAY 7 – MONTALCINO
85KM / 1250M CLIMBING -OR- 101KM / 1720M CLIMBING
Montalcino is the city of Brunello red wines. Our hotel is perched on the hillside offering spectacular views of the valley and the perfect spot to relax with a glass of refreshment. The center of the medieval town is dominated by the imposing Rocca or fortress built in 1361.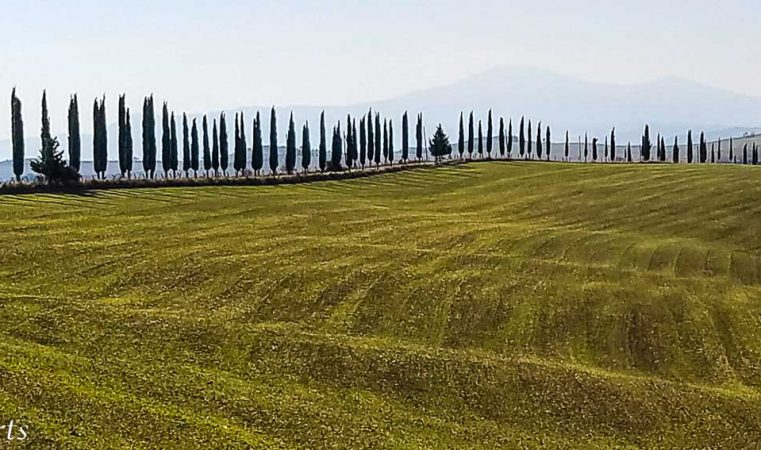 DAYS 8 & 9 – MASSA MARRITIMA

 

 
85KM / 1250M CLIMBING -OR- 101KM / 1720M CLIMBING
Our hotel is located on the hilltop, at the corner of the pedestrian only (touristica) streets of the walled city. An outside entrance to the gardens at the back of the hotel will be our bicycle entrance and storage. The gardens and swimming pool will offer a place to relax after a solid day of cycling; climbing, ridge surfing, and more climbing!  Saturday night will be dinner on your own, with many options within a short walk.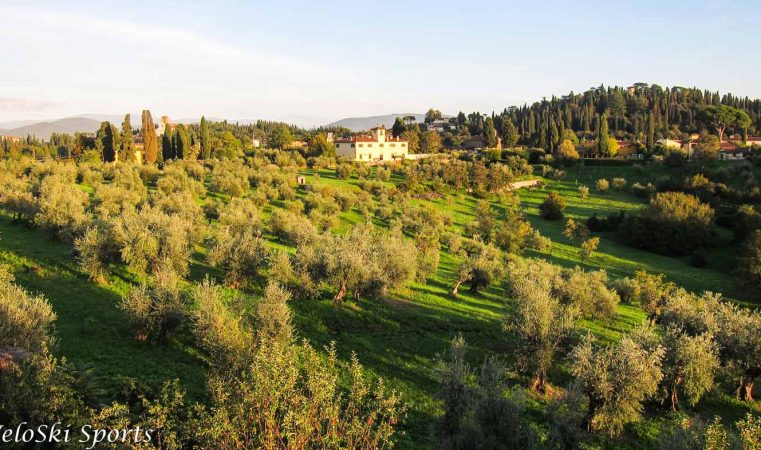 DAYS 10 & 11 – VOLTERRA
85KM / 1600M CLIMBING -OR- 89KM / 1850M CLIMBING
Volterra's rich Roman and Etruscan history are waiting for you to enjoy!   Our two night stay will provide time to explore Volterra. Plenty of shopping opportunities here for alabaster stone keepsakes, jewelry, leather or bronze goods. You can rent an AudioGuide at the Tourist Information Office (Ufficio Turistico) in Piazza dei Priori 20 to learn more about the Roman amphitheatre and other Etruscan history.
DAY 12 – SAN GIMIGNANO
34KM / 500M CLIMBING -OR- 52KM / 850M CLIMBING
Near the edge of town we found a nice hotel managed by Tobias, an avid cyclist, where you and your bike will be welcomed with smiles.  The hotel is only 500 meters from the town of San Gimignano, dinner will be on your own this evening. Enjoy this famous Tuscan town, photographed for its many towers. Towers were added fortification to wealthy homeowners houses during the medieval times.  Dinner on your own in San Gimignano. Enjoy!!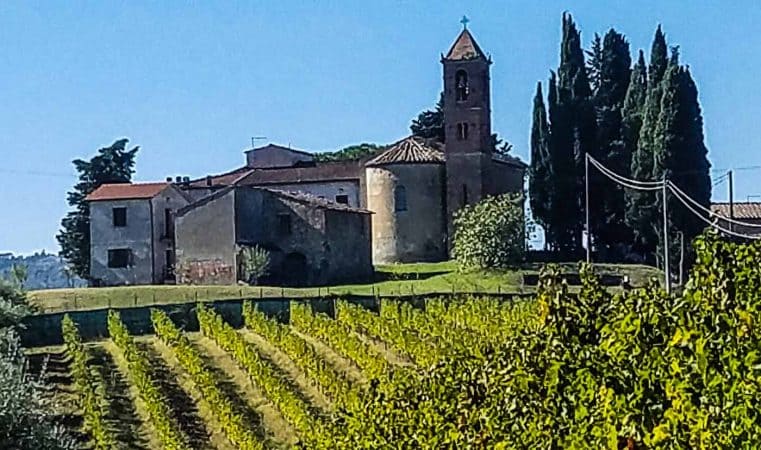 DAYS 13 & 14 – CASTELLINA IN CHIANTI  
36KM / 600M -OR- 55KM / 750M CLIMBING
Three nights in this charming town will allow for a day trip into Siena, wine tasting (we recommend Mazzei Winery), or leisurely rides in the Chianti region. Another beautiful hillside location, with pool, and lovely views from the decks of the hotel.
DAY 15 – FLORENCE
52KM / 540M CLIMBING
Our final day of riding and the return to Firenze. We recommend a stop in Greve in Chianti. Watch for signs to the Ufficio Turistico (Office of Tourism). The piazza or town square offers a variety of shops, gelato, coffee, or lunch options. The Museo del Vino is open from 11:00AM – 4:30PM.
Airport departures October 10, 2022.

Comfortable family operated B&Bs, inns and hotels well situated to enjoy local culture and flavors.
Group breakfasts and dinners featuring typical local flavors and dishes prepared individually for our enjoyment. Breakfasts provided by our lodging partners. Dinners generally include a variety of choices for each course (starter, first course, main course, dessert); paired with wines, beer and after dinner coffee. Most dinners served from the kitchens of our hotels, others taken in nearby restaurants.
15 nights, 15 breakfasts, 13 dinners, 3 winery tastings, daily road snacks/picnics, maps and route descriptions, luggage transfers, on-the-road ride guides, van support (sag wagon).
Lunches, 2 dinners, tips & gratuities, airfare, museum entries, trams or lifts, trip insurance.
ARRIVAL PLANNING
Arrive into Florence, Italy airport by September 25, 2022.  We encourage you to arrive as early as September 22, 2022 to enjoy all that is Florence before we ride out through the Tuscan countryside.  We have hotel space reserved for the earlier arrival dates, so let us know your flight itinerary to confirm extra room nights.
DEPARTURE PLANNING
Depart from Florence, Italy airport October 10, 2022. Later departures may be arranged.
PRICES
— $5750 double occupancy per person — $6500 single occupancy per person
RESERVE YOUR SPACE TODAY
Download the VeloSki Reservation form HERE. Spaces are reserved on a first reserved, first confirmed basis. Please call or email if you have questions!