Nice to Pisa: Italian Riviera, Ligurian Alps and CinqueTerre
[embedyt]http://youtu.be/PLJH3CX-ZW8[/embedyt]
 27 May – 11 June 2022
This is a truly unique European cycling vacation: the French and Italian Riviera, the Cinque Terre hilltop villages, the Ligurian interior countryside, the Tower of Pisa. Even better—it's a route that largely remains off the radar of bicycle tours. Coursing thread-like mountain roads above the Mediterranean, and venturing into remote and tranquil Liguria, you'll experience some of the finest coastline cycling, scenery and cuisine Europe can offer.
You'll begin at the classic French Cote d'Azur destination of Nice and proceed along the rugged coastline, through Monaco, before turning south entering Italy. The impossibly beautiful villages and terraced vineyards of the Cinque Terre enchant, while the serene Ligurian countryside beckons. Wrap this up with the famous stop in Pisa, and you have all the ingredients for a remarkable bicycling vacation! Bon Appétit!
You'll marvel at the worlds of contrast within a mere two weeks of bicycling. From the hustle-bustle of Nice to the interior of Liguria the contrasts are striking. The cerulean waters of the Mediterranean, compelling in both clarity and intensity, easily distract. Yet we are quickly reminded of the nearness of an enterprising economy. The coastal roadways are often exciting—people, scooters, cars and trucks—yet everyone cooperates and shares the road in such a way that North American bicyclists dream of when considering an ideal cycling getaway.
Meanwhile, Liguria is a terrain of field and forest. Locals gather funghi (mushrooms) used liberally in the delicious local cuisine. The serenity of the interior is a welcome complement to the bustling energy of the seaside—and you're sure to treasure the "secret" roads as much as the the local cyclists who ride them on the weekends. Your bicycle tour will explore inland over four days, with out-and-back loop rides, as well and point-to-point routes, before moving back to the Mediterranean.
Next we'll explore the reknowned Cinque Terre by bike, foot or boat. The seafood is fabulous, and the views from the villages perched on cliffs above the sea are breathtaking. From the Cinque Terre we'll cycle quiet roads to the outskirts of La Spezia, and ride around Poets Cove to Lerici for lunch. From there it's on to Marina di Carrara: home of the fabulous marble made famous by Michaelangelo .
Leaving Marina di Carrara, we'll ride beneath the mountains of marble on the local cyclists' favorite route into the walled city of Lucca. This is the town of the great Italian cyclist Mario Cipollini, as well as the great operatic composer Giacomo Puccini (Madame Butterfly, La Boheme). You'll have ample time to explore this historic town—and even ride around the top of the historic wall.
Our farewell dinner will be a final toast to all that is wonderful about cycling and traveling. You'll never forget the chance to engage everything this bike tour encompasses—from the unbeatable meals and friendly camaraderie, to the kilometers of wonderful roads and glimpses into a quiet life still lived day-by-day. You'll have much to contemplate, and plan for next year.
Day 1 – Arrival
After meeting your flight into the Cote d'Azur airport we will help get you settled into our gateway hotel in nearby Vence. Riding, reading, resting or roaming the Old Town; you decide, we are here to help. Welcome dinner will introduce you to the flavors of Provence.
Day 2 – San Remo
93km, 750m climbing, mostly 6-8% grades; or 119km, 1590m climbing some 9-10% grades
We ride on quiet roads to the outskirts of Nice, then follow the newly designated bike lane along the Promenade des Anglais to the Port of Nice. The easier-climbing route continues on the coastal road and offers a close-up view of the yachts moored in the bays, harbors and marinas between Nice and Monaco. The climbers' route traverses over the Col d'Eze to join the Grand Corniche road where we have panoramic views of the Cote d'Azur coastline. We descend to the lower road as we leave France and enter Italy at Ventimiglia. The road along the coast passes thru numerous old towns with red tile roofs, numerous bike shops and gelato shops. The climbers route rides up a river valley, then traverses the ridge-tops between villages perched high above the ocean. We finally descend into San Remo for a well deserved post-ride refreshing beverage. Dinner will feature seafood and fresh pastas. Italians love to walk after dinner, so we invite you to stroll along the marble "boardwalk" and sample gelato the Italian way.
Day 3 – San Remo
36km, 50m climbing along the coast; or 78km, 1230m climbing mostly 7-9% grades
The World Rallye Car drivers and professional cyclists from around the world all know about the roads near San Remo, so we will explore many of these wonderful roads leading to hilltop villages. Of course, we must ride over the Poggio to better understand the terror of the peloton as it approaches this final obstacle on the way to the finish of the annual Milano-San Remo Classic each spring.
Day 4 – Alassio
55km, 200m along the coastline; or 101km, 1420m climbing mostly 7-8% with some 9-10% sections
We start the day riding along the Mediterranean before climbing into the hills to enjoy another day of quiet roads linking tiny villages, vineyards and olive groves. This is a great day of riding where the local cyclists like to ride and the views are ever changing. Alassio is a much smaller version of San Remo and we will enjoy a nice quiet location near the marina.
Day 5 – Alassio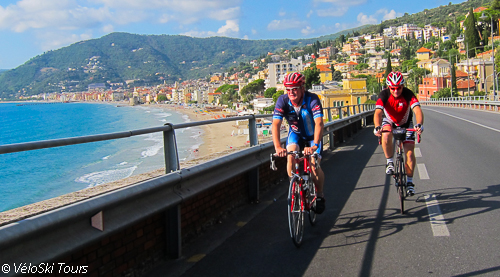 56km, 780m climbing with some 9-10% grades; or 112km, 1550m mostly 7-8% with some 9-10% sections
The roads are so much fun to ride near Alassio that we are compelled to linger another day for great rides into the high meadows of Liguria. You will return to our seaside hotel wondering why you have never heard of riding in Liguria until now. We will be home with ample time to wander, shop and relax.
Day 6 – Sassello
114km, 1750m climbing mostly 7-8% with some short 9-11% sections
Not exactly a household name in cycling circles around Seattle, but this little town nestled high in the Ligurian hills is very popular among local Italians. Along the way we criss-cross the Alta via dei Monti Liguri, the MTB and hiking route that traverses the entire length of the Ligurian Mountains. It is funghi season here, so we can expect to savor delicious mushroom-flavored meals. Sassello is also famous for a delicious soft pastry called Amaretti—enjoy!!
Day 7 – Sassello
87km, 950m climbing mostly 6-8% with a couple of very short steep 9-11% sections
Today is simply a rider's treat as we take a loop ride that includes one of the smoothest, twisty, roads that you will wish you could do again and again. We descend into the wine-producing region of Piemonte as we pass thru Ovada, before climbing small roads leading back over the ridges to Sassello.
Day 8 – Montoggio
98km, 1420m climbing mostly 7-8% with longish 9-10% sections early in the day
We leave our delightful hosts with fond farewells and retrace the start of yesterdays ride on our way to another great roadway. This time we are nearly suspended in the sky as we traverse the coastal side of the high ridges separating the interior from the sea. We ride where birds soar and sheep graze, while looking toward the sea 800-900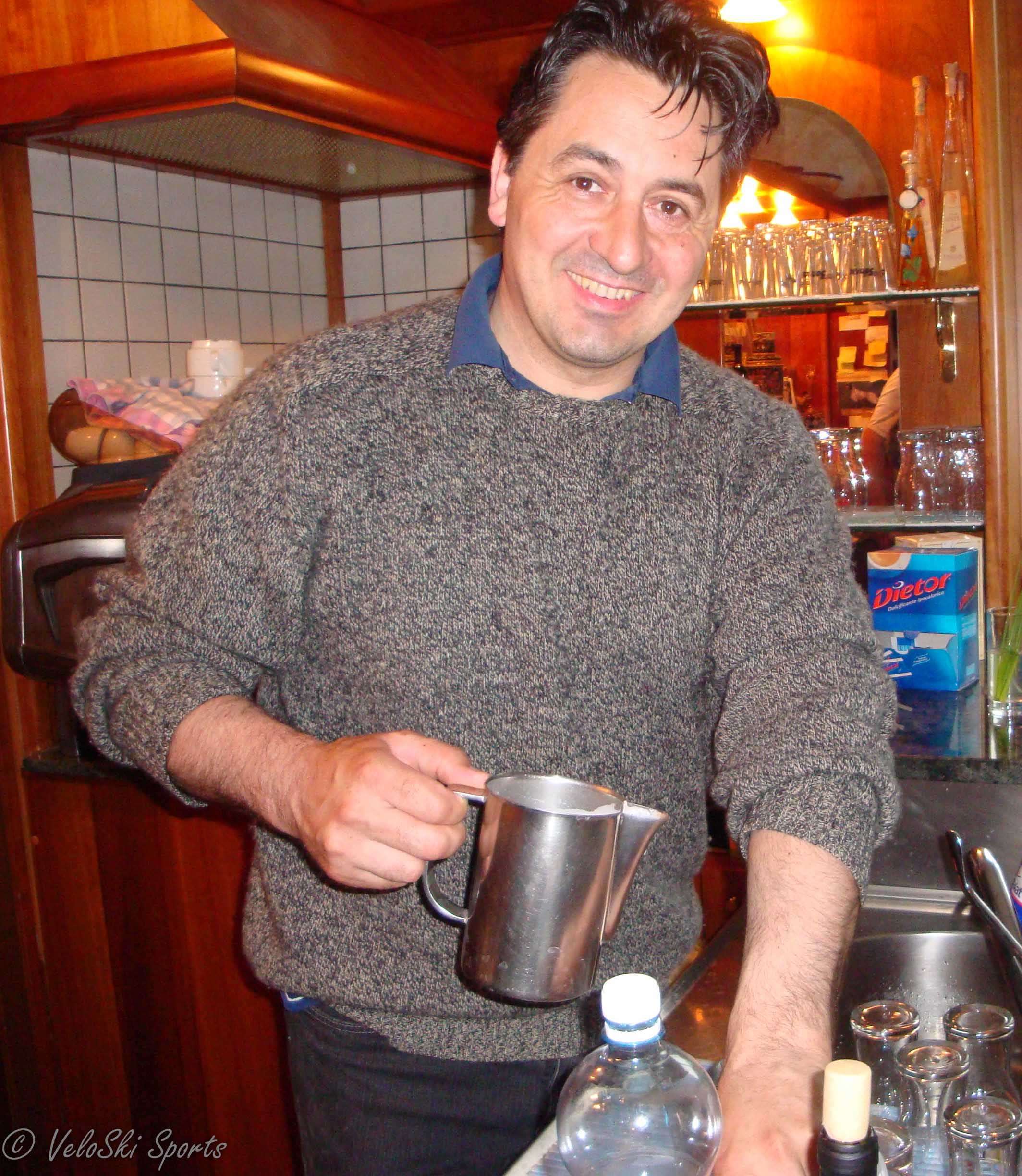 m below. We will ride thru a tunnel that almost seems like we are going back in time on the other side, but it is just the relaxed and remote nature of the interior of Liguria. Climbing over a final ridge before descending to Montoggio we see bustling Genoa far below us.
Day 9 – Sestri Levante
58km, 350m climbing; 89km, 1050m climbing; 124km, 1750m climbing
We continue riding over hills connecting remote valleys and descending dramatically to the sea at Ricco. Here we MUST sample the local specialty, focaccia of Ricco. After this, we ride from Camogli to Portofino to enjoy a more leisurely lunch on the stone walks that form the "docks" of the marina. Following this meal we continue along the shore and thru Santa Margherita into Rapallo, where we must decide between the coastal road or a strenuous climb into the Ligurian interior. Finally, we arrive in picturesque Sestri Levante and the Bay of Silence.
Day 10 – Sestri-Levante
85km, 950m climbing; 111km, 1650m climbing
My very good friend Luca helped me with the initial design and layout of the Nice to Pisa tour. So, today we are riding a route that Luca keeps telling me is one of the most spectacular climbs in all of Liguria. The approach to CentoCrocci is wonderful as we gradually climb along the side of the valley thru small villages and open meadows to Varese where the climbing becomes serious. Tomorrow is an easy day of only 51km, so we can afford to ride a little harder today.  Or simply enjoy lounging by the pool, walking along the beach and sampling gelato.
Day 11 – Monterosso
56km, 700m climbing
The ride from Monteross to the top of Passo del Braco is one of the most popular routes for local cyclists because of the great pavement, stunning views, and thrilling descents. From Passo del Braco it is not all downhill to Monterosso, but we do have a lot of descending today as we enter the Cinque Terre region. The Cinque Terre is one of the more famous regions of Italy; the picturesque villages perched above the sea, the terraced vineyards and olive groves, the delicious seafood and the quaint villages all form the backdrop of our next few days. We arrive early enough to wander the village and relax on the beach.
Day 12 – Monterosso
Today is a "rest day" for riding, but there are too many choices of activities to really rest. The famous trail that connects the 5 villages is certainly high on the list of to-do's. Or, take a more leisurely approach to exploring the Cinque Terre and go by boat; regularly scheduled boats connect all of the villages. Dinner is on your own to allow total freedom of schedule and adventures.
Day 13 – Marina di Massa
98km, 1150m climbing some 9-10% sections mostly 6-8% grades
We climb up to a road that traverses above all of the Cinque Terre villages for a birds-eye view of the villages perched above the water. Passing thru the last tunnel of our tour, we leave the Cinque Terre behind and descend to La Spezia. La Spezia has a long tradition of boatbuilding that continues today. Before we enter this bustling port town we take a short diversion to Portovenere for mid-ride café and snacks. From Portovenere we look across the Poets Bay to Lerici, our next destination. Lerici is a fitting stop for lunch amid old villas, large fortresses and fishing boats in the marina. After a ride thru a regional park, we descend to sea level for an easy spin to our hotel in Marina di Massa.
Day 14 – Lucca (Pisa)
56km, 250m mostly flat; 87km, 650m to include Pisa before Lucca
Riding along from beach-resort to beach-resort is a favorite among local cyclists and the local drivers are amazingly cooperative. As one local bike shop owner said, "this is Italy, we don't need bike routes….we share" And share they do along this road from Marina di Massa to Lucca. For those who have not visited Pisa we include a quiet route thru olive groves and farmlands into Pisa and then along a favourite route of local cyclists. Lucca is probably the most intact of all the walled cities of Italy—and we arrive in time to take a spin along the top before settling into our hotel within the walls. We are in Tuscany now and will enjoy fine Tuscan cooking at a special restaurant.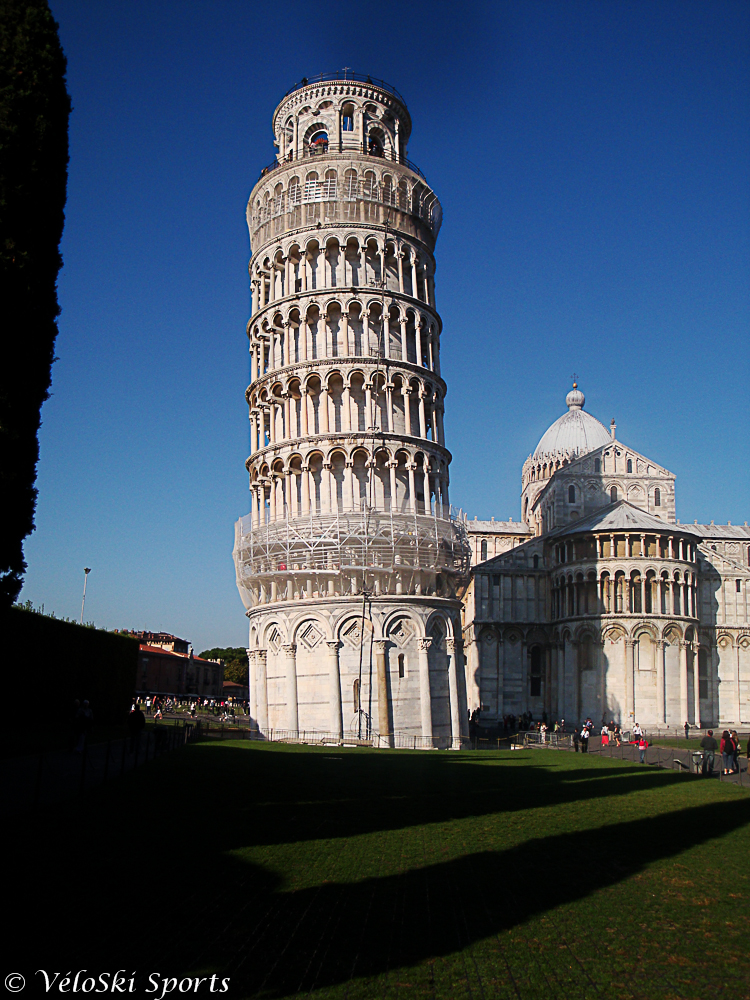 Day 15 – Pisa departures
Morning transfers to Pisa – Galileo airport (PSA)
Afternoon return to Nice (Vence) for departures the following day.
Day 16 – Nice departure 
Nice – Cote d'Azur (NCE) departure requires an extra hotel night supplement added to the base tour price.
Accommodations:
Comfortable family operated Bu0026amp;Bs, inns and hotels well situated to enjoy local culture and flavors.
Meals: 
Group breakfasts and dinners featuring typical local flavors and dishes prepared individually for our enjoyment. Breakfasts provided by our lodging partners. Dinners generally include a variety of choices for each course (starter, first course, main course, dessert); paired with wines, beer and after dinner coffee. Most dinners served from the kitchens of our hotels, others taken in nearby restaurants.
Included:
14 nights, 14 breakfasts, 12 dinners, daily road snacks/picnics, maps and route descriptions, luggage transfers, on-the-road ride guides, van support (sag wagon).
Excluded:
Lunches, 2 dinners, tips u0026amp; gratuities, airfare, museum entries, trams or lifts, trip insurance
Dates:
28 May 2017 – latest date to arrive into Nice, France (Cote d'Azur Airport – NCE)
11 June 2017 – departure from Pisa, Italy PSA (Galileo Galilei – PSA)
12 June 2017 – departure from Nice, France (Cote d'Azur Airport – NCE); requires an extra night of lodging.
$4500 per person double occupancy
$5250 per person single occupancy (limit 3 persons) 
Extra Nights can be arranged for guests who arrive prior to 28 May or depart post 12 June.